We stayed four nights in late January/early February 2016 after a five night stay at the nearby Mount Washington Hotel. This was our first stay at the Inn despite years of cross-country ski trips to the area. Susan and James are terrific hosts who go out of their way to make the stay warm and comfortable. We wish that we had discovered them earlier. They are also strong ambassadors for the area with a wide array of suggestions for places to go and things to do. The breakfasts are varied and creative. They both are passionate about cooking and incorporate those passions and their own extensive travel experiences into each breakfast. We stayed in one of the rooms with a kitchenette, which was a perfect match for us given that we were looking for a break from dinners out. They provided everything promised on their website. Note: The Frette linens are an unexpected and highly appreciated amenity. We will be back next winter. The Riverwood Inn is now on our radar.

James M.
February 1, 2016

We stayed here for 3 nights as part of a tour round New England and it was a superb way to bring our trip to a close before returning to Boston to fly home. Jackson itself is a peaceful tranquil place compared to the nearby, much bigger town of Conway and we were drawn to it because of its promises of covered bridges and babbling brooks! It did not disappoint and neither did the RiverWood Inn! Susan and James are wonderful hosts and were helpful and chatty throughout our stay suggesting places to visit and eat. They served us a very impressive breakfast every morning with a choice of juices, teas and fresh coffee and Susan's home baked cookies, which were available during the daytime, were delicious! We enjoyed a relaxed evening one night by the fireside and had 3 good night sleeps! The room and en suite were immaculately clean and I don't think i've ever stayed in a cleaner hotel! It really was impressively clean which was just luxury. If I am ever blessed to have the opportunity to visit Jackson again I wouldn't hesitate to stay here. Overall we had a fabulous stay and would highly recommend this beautiful Inn to anyone visiting the Jackson area. (James you will be pleased to know one of the puppies you saw via skype has been nicknamed Jackson!! and Susan we saw several whales and their calves on our whale watching trip in Boston on the last day) "
Gail
UK
28 October 2015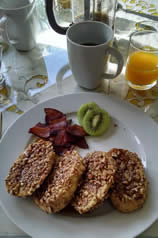 Best bed and breakfast I have been to in a very long time. Owners were very conciencious and courteous and clean. Food was phenomenal. Rooms were quaint and well cared for. I would highly recommend anyone using this bed and breakfast when in Jackson, New Hampshire.
Stewart S
8/1/2015
This is a gem of a place. New owners James and Susan pay attention to every detail for each guest. Their breakfast is not just delicious but includes fabulous presentation and is special every day. A short walk to the creek to fly fish and a cozy room. We will be back!
Joanne H.
7/27/2015
James and Susan were absolutely wonderful. The Inn is at a beautiful, beautiful place in New Hampshire that had the most gorgeous snow around the time when we visited (mid-February). Very close to the downhill skiing (we went to Wildcat) and cross-country trails (Ellis River). Breakfast was great, beautiful and very satisfying. They also have games, apples, energy bars, and just about anything you'd need for a weekend stay in the mountains. Bonus points to James's jazz improvisations!!!!!!
Playing the piano was the BEST. Also our first breakfast, with omelette, was the best.
You guys are perfect.
Svetlana D.
February 2015