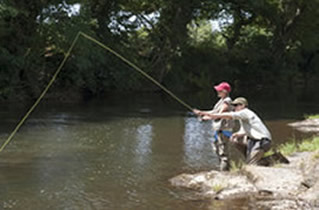 Fly Fishing 101
Fly Fishing is part art form, part sport, and all fun! There's nothing like stealthily wading up a crystal clear stream looking for the spots where trout lay in wait. You find a likely riffle, execute the perfect cast, and watch your fly alight on the water. The fly drifts downstream, and then vanishes in a sudden swirl. You set the hook and a shimmering trout leaps into the air. Now you are the one who is hooked!
Let local guide and instructor, Nathan Hill, teach you how to execute that perfect cast, and then show you where to find, and how to catch brook and rainbow trout.
The day includes one to two hours of casting instruction and two to three hours of fly fishing. Equipment is included.